by: Stanley Allan Sherman © September 9, 2014
Happenstance Theater
Created by: Pinot – Mark Jasater & Augustine – Sabrina Mandell
From Washington DC
One of the great joys of clown theater is how you can do so much with so little. Pinot & Augustine clowns totally drive their show. Pinot speaking in French all the time and Augustine translating everything Pinot says. This translation some how work really well adding a nice flavor to the show. Their totally different clowns on opposite sides of clown personality world. In a festival of lots of solo clown shows it is a pleasure to see two clowns working together so well. Pinot & Augustine truly make the most of their differences. It is all the little subtleties they put into every single little thing that they do. The show is built of short acts, put together into a show. Augustine is great at putting in inside jokes and inside jokes for this Clown Theater Festival audience.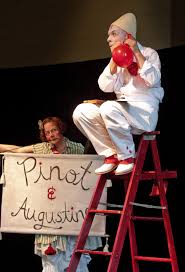 If your looking for a kids friendly show Pinot & Augustine is it and all the adults will be laughing too. Simple props, acts and play all done well. Their show is not made up of a lot of original material/bits, but how they play their material they make it their own with original twist. Pinot plays his musical instrument like a master. Augustine plays her character with lots of joy. It is their counter balance of these two totally different clowns that makes this show so enjoyable.
The rhythm and arch of the show can use a little tweaking. For the show family audience market they are playing too, it is a well put together show and professionally played.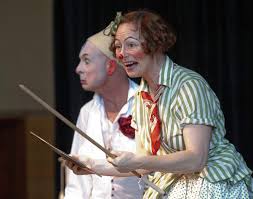 Pinot & Augustine website: http://www.happenstancetheater.com/
Next shows that are part of the NY Clown Theater Festival www.bricktheater.com/clown
Wednesday September 10 @ 7:00 PM
__________________________________________________
Mask Arts Company pages
Custom fitted clown noses
Commedia dell'Arte
Pro-Wrestling & Music Rap mask
Directing
Dance theater film
Custom masks and props
Teaching plays acting