By: Stanley Allan Sherman © September 28, 2014
Mask Arts Company New York NY
Created & Performed by: Heidi Brucker Morgan and Matthew Morgan
Two other performers are in the show, but there was no programs and cannot find their names.
From L.A. California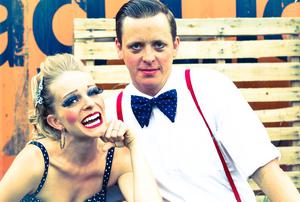 If your looking for a not for children show, (although kid would love it) this is it. Heidi and Matthew throw circus technique, geek, acrobatics, clown, raunchy, blue movement comedy, male theatrical nudity, make fun of juggling and anything else they can. Life After Death is fun, original and entertaining. They make use of simple lighting effects, giving a feeling of an old black and white film. An entertaining accident continues the fun.

Spraying something from two cans of something that did not make the audience sick, they play in a fun cheep smoke effect. Doing geek simple magic effects Matthew, makes some members of the audience scream and cover their eyes. It is the relationship and anything can happen characters between these two showoffs that make the magic happen.
The third performer (do not know his name performer) came from a trunk that was on stage from the beginning. We hear a knocking of the trunk. There is a knock knock game that develops between the audience and the trunk. Finally an audience member bravely goes and opens the trunk and out pops a classical white face poetic actor. Finally Heide and Matthew come out asking, "who let him out?" Then capture him, trying to get him off stage. All this works and we are well entertained.
As far as audience participation, Heidi and Matthew take it to a new raunchy level. The pace of the show is excellent and the whole show holds together from beginning to end, except for the fourth performer in this show who was a guitarist and singer. The set up was great as well as the singing. But felt like he was just stuck into the show and the pace and build of the show took an odd turn.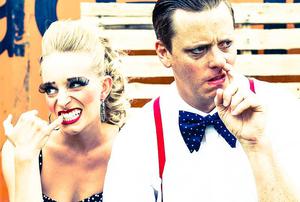 The audience loved Life After Death and it was the final show at the 2014 NY Clown Theater Festival. But you can still see these two fun raunchy performers in New York at The Slipper Room 167 Orchard St. NYC 10002 this Monday in their show Shotspeare. Doors open at 7 PM, curtain at 8 PM. This is a 21 years and older show. If you have not been to The Slipper Room it is one of the unique performance spaces in NYC that besides burlesque they offer variety performers and unique theater. I know you can sometimes find Zero Boy and other variety entertainers performing there. Advanced tickets at www.slipperroom.com
Heidi Brucker Morgan and Matthew Morgan website: www.maryandharry.com
Matthew Morgan: www.matthewmorgan.info
Heidi Brucker Morgan:  www.heidibrucker.org
__________________________________________________
Mask Arts Company pages
Custom fitted clown noses
Commedia dell'Arte
Pro-Wrestling & Music Rap mask
Directing
Dance theater film
Custom masks and props
Teaching plays acting