Economic Recovery Mask prices
Click on Neoprene for more information
Two different kinds of
The Commedia dell'Arte Masks
Leather
Leather and Neoprene Commedia masks are made from the similar molds. The difference is performance quality, feel, look, durability and comfort. For professionals, I highly recommend ordering leather Commedia dell'Arte masks. Neoprene Commedia masks is excellent for tight budgeted theatre and drama education. A leather Commedia dell'Arte mask for a theater department can last 10 years or more. I've used some leather masks for over 20 years.
Tight Budgets:
Neoprene Masks are from $44 to $115 coming in - Raw, Finish, Finished with Hair, and with Lining and/or Adjustable Elastic. Understanding people and organizations have tight budgets, I offer adjustable elastic and lining as additional options for Neoprene Latex Masks. This is one way I can keep prices low, giving you options that will fit your budget when ordering. You can buy unfinished Raw Neoprene masks for a real budget saver.
How are they different?
Leather mask is more comfortable, durable, and will adjust to your face better. In performance or classes, it has a better feeling and energy. Plus it is one of the materials which the original Commedia dell'Arte masks were made from. A leather theater and teaching mask will last longer than a neoprene mask.
The leather masks come with an adjustable elastic strap. Neoprene masks have an extra charge for the adjustable elastic and Neoprene is less expensive.
How are they the same?
The same high quality designs are available in both leather and neoprene. You can get custom coloring and hair on both types of masks.
Improved Adjustable Elastic:
I am always on the lookout to improve my masks and I have found another one.
Improved adjustable elastic is now available to hold your masks on better - even when the elastic wears out.
---
Slapstick designed for the performer are now available. After years of design testing, research and development, I am happy to have slapsticks that looks like Arlecchino's replacement for his sword; which he could not afford, so he used a simple stick. But his stick is a slapstick that creates a smack sound with a light tap.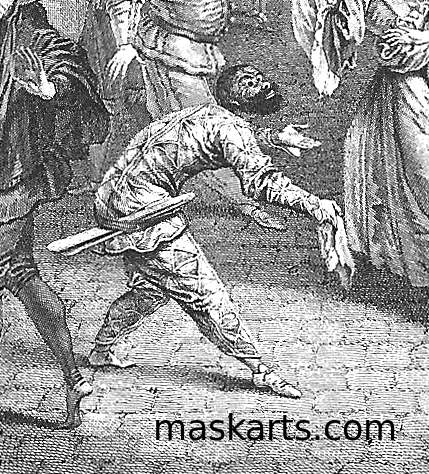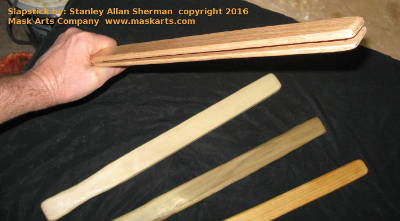 Read Mask Arts Company Blog: Performers Slapstick Designed for the Performer. It is my journey in creating these slapsticks over the last few years.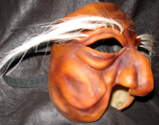 Two new Commedia dell'Arte mask designs, the elderly women of the Commedia dell'Arte; Laura, Pasquella, Ruffiana and Dottore #3 in Neoprene latex masks in Raw, Finished and Finished with Hair.




summer workshop
Commedia dell'Arte Summer workshop June 19 - 30, 2017
Mime - Movement - Rhythm workshop July 10 - 14, 2017
Neutral Mask Metaphysical Mask Lab July 10 - 14, 2017
Creating Original Material - Beyond Devised Theater July 16th - 21, 2017
Since 2001, teaching Commedia dell'Arte as close to how we believe it was performed in the 1500's.
Commedia dell'Arte players with all their techniques, talents, specialties, take their scenario and jump into the theatrical void together, creating new adventures. Stanley Allan Sherman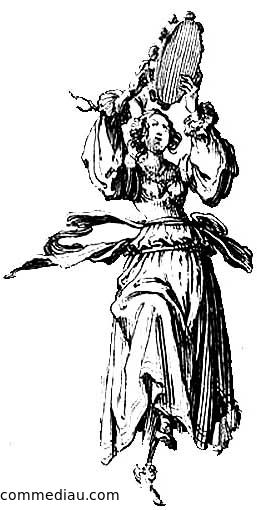 "Anyone can open the drawer marked Commedia dell'Arte, but, having opened it, how does one know what to choose from it."
Carlo Mazzone-Clementi 1974
download Winter workshop pdf printable flyer

---
Commedia dell'Arte Mask Departments - Click on the topics to go pages.
Carlo Mazzone-Clementi Collection
Hold the Mask on the Face - Elastic
When ordering neoprene masks remember to say if you would like Adjustable Elastic & Lining added to your masks when ordering.
---
History, articles on Commedia dell'Arte and more:
New York Theatre Wire (2006) "Il Dottore Explains It To Us All" by Stanley Allan Sherman
Back Stage "Commedia Tonight" by Jean Schiffman, February 26, 2007
Commedia dell'Arte: The Essential Scenario - Actors Freedom
The Soul of The American Actor (July 2011) by Stanley Allan Sherman
American Council on the Arts: American Arts Magazine
State of the Art, Mime (September 1980) by Stanley Allan Sherman
Soul in Your Mask (2013) by: Stanley Allan Sherman
Mask Arts Company Blog
Commedia dell'Arte - Teatro di Gioia - Joyous Theater (2013) by: Stanley Allan Sherman
Mask Arts Company Blog
Creating Original Material (2013) by: Stanley Allan Sherman
Mask Arts Company Blog
What is Clown Theater (2011) by: Stanley Allan Sherman
Mask Arts Company Blog
Neutral Mask - Sculpting for Breath (2013) by: Stanley Allan Sherman
Mask Arts Company Blog
Fay Lees Lecoq - thank you (2012) by: Stanley Allan Sherman
Mask Arts Company Blog
---
Health alert: People who are allergic to neoprene latex or leather should consult their physician before using masks.