by: Stanley Allan Sherman © September 8, 2014
Performed and Created by: Courtney Cunningham
Original 2007 touring production directed by Emily Davis
From: Los Angeles, CA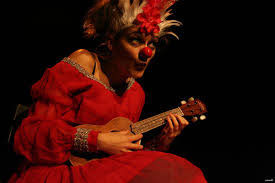 There are some clown shows that are special. Full of reflections of life. This is a wonderful very feminine delicate and at times intense, loud and knows what she wants…clown with some real fear issues. Well, one main big issue. Poffy du Vey creates wonderful moments with a great over all energy and rhythm throughout her show. A very personal show with issues that can touch us all. There is laughter but also sadness with that empty feeling one can get. Her magic is in her play and how she dances with her honesty, moment to moment.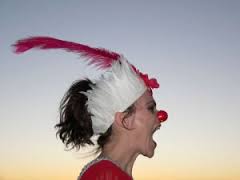 Her play with the audience is very integrated with a soft yet comfortably and fun way. Poffy du Vey engaged us from the opening to the last moment. It is refreshing to be able to see a great clown play silence and play it well. The opening music sounded original and it was short; allowing Poffy to totally take over and setup her rhythm and sensitivities for the evening. Everything that happens is used by Poffy du Vey.
Wonderful joyful evening of clown theater. You want to catch Poffy du Vey show.
To Contact: Courtney Cunningham or Poffy du Vey http://www.courtneycunningham.com/
There was no program, so I cannot credit costume or other elements.  There was a lot of music used, some of it sounded original others sounded like known pieces. None of the music in the show I am able to credit for this review.
One shows left that is part of the NY Clown Theater Festival www.bricktheater.com/clown
Wednesday, September 10 @ 8:30 PM
__________________________________________________
Mask Arts Company pages
Custom fitted clown noses
Commedia dell'Arte
Pro-Wrestling & Music Rap mask
Directing
Dance theater film
Custom masks and props
Teaching plays acting