by: Stanley Allan Sherman
© September 17, 2014
Created and performed by Lucie B
From: Toulouse, France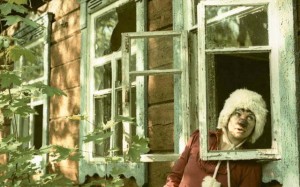 A very charming different bold clown with lots of artist power. Molding in everything from dance (ballet on point), photography, video and yes clown into her show and it is all used, because it is needed. It is simple with simple props. Lucie's interaction and play with the audience is wonderful. Playing and taking advantage of everything that happens every moment. Lucie is an artist that never does the same show twice. Each time it is different. This also give her show a wonderful edge. It is very much a story telling show… only its true, based on facts.
Yes Lucie really did go to Chernobyl. There is a political edge to "Bach Forever – or my Honeymo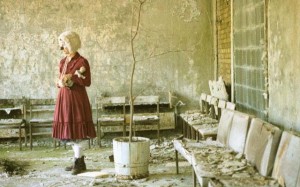 on in Chernobyl" that delicately hits you with a sludge hammer of power. This political clown theater really works and avoids all the political theater problems that most political theater has, giving us a wonderful evening at the same time. Resulting in a very strong piece of theater. As to this festival. It is a clown theater festival. This show has lots of theater that is used well by this lovely clown. She is clever, full of surprises and very French.
"Bach Forever – or my Honeymoon in Chernobyl" is very different from any other show so far in this festival.  I am sorry she only performed it this one time at this NY Clown Theater Festival. Those who caught the show had a real treat, adding to a broad world of clown theater.
After the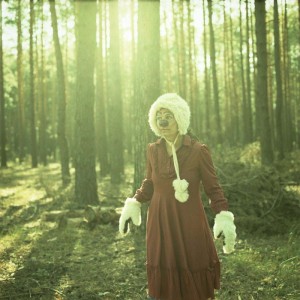 show Lucie let the audience ask questions about anything, but mainly Chernobyl. We found out about how many had died, about wild life reaction and animals. For many animals, (not birds), it is a place without people so lots of animals are there.
If you want to catch "Bach Forever – or my Honeymoon in Chernobyl" you will have to go to France, this was the one and only show for it at the festival.
Lucie B website www.sans-paradis-fixe.net

__________________________________________________
Mask Arts Company pages
Custom fitted clown noses
Commedia dell'Arte
Pro-Wrestling & Music Rap mask
Directing
Dance theater film
Custom masks and props
Teaching plays acting