From Los Angeles
Created & Performed by: Matthew Morgan, Tina Groff, Brandon Breault, Gilford Adams
Plus Special Guests: Julie Atlas Muz, Sweet Soubrette
Board Op: Heidi Brucker
By Stanley Allan Sherman
© copyright September 20, 2012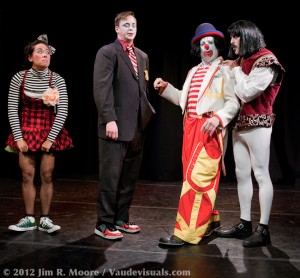 This company usually performs regularly in bars in the LA area.  Performing in a real theater with lighting is something different for them.  It is a fun experience watching this very odd combination of clown characters.  We have a great take on the modern company of LA clowns today.  There are many sexual jokes, masturbation clowning, breaking with the normal taboos, but there is also standard clown routines which the Dingbats twist.  There is kind of a theatrical line going through this odd piece of clown theater, "Mom has just died."
There is hat juggling, although some of their hat manipulations could be much better.  They even do the hat toss and catch on your head with one another, which most likely means that at some point, at least one of them most likely studied with Hovey Burgess.  We have many standard hat tricks and bits, but it is not the bits; it is how this company of clowns does them.
This show is high fast-paced energy with only a few slow moments to catch your breath, which are well placed in the show. There is also a burlesque dancer (Julie Atlas Muz) who takes off everything except her stockings, shoes and pasties.  She does one of the two guest bits.  But what is funny is Tina's clown following her doing a special type of clown strip that is both sexy and very funny. I will not spoil the many standard jokes of this very athletically talented performer, who is also the top juggler in this company.  Tina is also the top person in the three or four man high acrobatic stunt throughout the show.
The stripping juggling bit is fun: every time a member of the company drops one of the juggling clubs, that clown must take off an article of clothing.  Most of the guys lost most of their clothing first with Tina being the last to lose most of hers.
There is definitely gross-out clowning involved here.  The other guest was a singer and musician (Sweet Soubrette) who played and sang as song about being adult and childless.  It seemed directed at the women in the audience and the piece was well placed within the show.
There are many really stupid bits, like ping pong with a mime ball, hangman with a rope, and other very old standard clown bits.  Yet this show is original because of how they perform this wild ride of a show.   You are not going for the high clown theater with this show, but going just to have a great time.  There are two more performances for "The Dingbat Show", 10:00 P.M. Friday September 21st and 10:00 P.M. Saturday December 22nd.
For more photos of The New York Clown Theater Festival go to Jim Moore's blog http://vaudevisuals.com/
The New York Clown Theater Festival runs through Sept. 30th at the Brick Theater http://www.bricktheater.com