Created and performed by: Will Shaw  www.willshaw.com
By Stanley Allan Sherman
© copyright September 16, 2012
This first time, untried material in front of an audience and new for those lucky ones who experienced this wonderful show. Will Shaw is known as one of New York City's few master jugglers and prop manipulators.  Few people besides his wife and daughter knew he plays the piano, which he does most of the time in his basement.  Will Shaw comes out of his basement, and what a wonderful experience it was.
The top of the piano is loaded with all kinds of toys. All of them are used.   Music is throughout the show, which Will Shaw plays. Of course, all kinds of tricks find their way into the show while he is playing: spinning a ball on his finger, hat tricks all in rhythm with the music he is playing, and more.
He takes breaks from playing the piano and goes to play with his hat, going through almost every hat trick in the book.  He begins to leave to do the next section of the show, stopping and flip his hat to his foot and from the foot to the head saying, "All union stuff."  (Evidently there is a jugglers union, which requires you to do all these hat tricks if you are doing a show.)  This show is full of Will Shaw one-liners.  We were laughing from beginning to end.
Cigar boxes – if you have seen variety shows, you most likely have seen the cigar box routine.  Yet this is different. Will plays the boxes musically, playing with them like a professional kid playing with blocks.  The balance combinations are wonderful and every once in a while there is an extra burst of joy within the play of the boxes.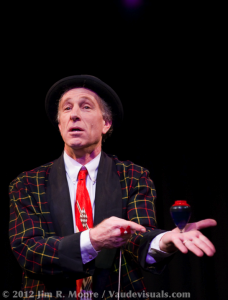 Will spins tops, doing things you do not think of when you think of tops. The one-liners keep on coming.    He takes a volunteer from the audience; in this case it is a boy wearing a Bindlestiff Family Cirkus t-shirt.  Will spins a top and places it on the boy's head.   Bringing out a bullwhip, Will says he is going to take the top off the boy's head using the bullwhip.   He is excellent at cracking this powerful bullwhip but ends up totally twisted up in the whip himself.  There is some recorded music and sound effects all created by Will and another.  The result is spinning top choreography.
Juggling balls naturally are in the show and Will is a master. Everything is full of rhythm and surprise you will not find in your normal juggling show.  I am not going to reveal most of the surprises, but this is not your average juggling clown show.   For Will's first show of Deadpan Alley: fantastic.  There is room for this show to grow and improve the over all timing and flow.  Deadpan Alley is only going to get better.
You are in luck, as there is one more show next September 29 Saturday at 5:30 PM.  Dixon Place, jugglers' festivals and odd theaters… this is another show from the 2012 New York Clown Theater Festival to consider for your future bookings.
For more photos of The New York Clown Theater Festival go to Jim Moore's blog http://vaudevisuals.com/
The New York Clown Theater Festival runs through Sept. 30th at the Brick Theater http://www.bricktheater.com