By: Stanley Allan Sherman
La Soiree
Union Square Theater
100 East 17th Street
New York NY 10003
lasoireeus.com
"Don't watch the whole show through your phone.  Just sit back and enjoy!" The MC announced as he welcomed the Monday night crowd to the packed house.  Cheers, hoooops, screams, laughs, oooooh's, aaaaaah's and smiles from beginning to end.

La Soiree changes all the time with acts coming in and out with international and local talent and some international local acts.   Audience members are returning to the show.  Sometimes they see the same acts and sometime new acts.  Return visits are one way to spot a successful show.  Also you are bound to see members of the circus, variety and theater community there.  One night last week many Ringling clowns came to the show.   A young very talented woman Valerie Benoit-Charbonneau that plays the daughter in Queen of the Night, which also happens to wear the daughters mask I created for the show came.  This night my clown friend Rob Torres of the Big Apple Circus and Funfreestuff happened to be across the isle.
Amy G is one of the new acts in the show.   Having seen Amy G before in other events, she is at her best in La Soiree.  She always leaves everything on the stage.  Her original and playful timing, humor, voice and skills she uses to the max.   Rolling in on skates that she is a master with and her beautiful costumes.  Amy G uses everything, everything, and anything is a prop and all is played with.   She had her audience laughing, deep laughter.  I am not going to tell you what she did because I do not want to spoil any surprises.  Thankfully Amy G does treasured spots throughout the show.    Her play with the audience is joyous.  All momentary gifts that happen are used.  Any actor performer out there can learn a great deal in how to use all your gifts as a performer from watching her.   It's a pleasure to hear her use her full throttled voice.    Hearing American the Beautiful, textured with some theatrical piercing political points are not to be missed.  You have never heard American the Beautiful until you hear Amy G perform it!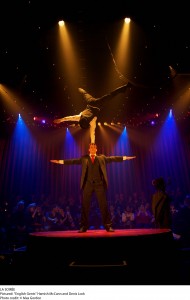 The English Gents are one of the main acts of La Soiree.   Two classy English gentlemen, one reading the Financial Times of London, an excellent new paper, are relaxing on stage.  Doing some of the most difficult stunning acrobatics and making it look easy and fun.   Calm humor with hold your breath feats.   Oh, yes it does get sexy with the women in the audience and men screaming with joy as the act gets … let's say aphrodisiacal.   It is their physical silent play with timing and humor that really makes this act fly.  They are excellent mimes – in their performance.
La Soiree has a good over all rhythm to the show with the variety of acts.  Of course the show rhythm changes depending what acts are in the show you see.   This night opening with Cabaret Decadanse fun puppeteers with their African American soul singing uniquely large puppet with exaggerating American soul girl group movements.  Everyone is moving to classical female power soul recorded songs the puppet is lip-syncing to.   Yes the audience clapping and laughing along.   Sorry, I usually always credit and list music that is used but was unable to receive that list.  Great classic hits are used through out the show.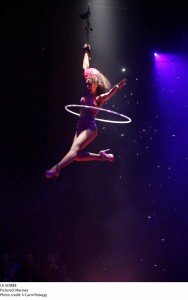 Marawa is the hoop performer.  It was a fun act with pounding Latin spiced recorded music along with rocking blues.   And she manipulates the hoops rolling them up and down her body and fly's into the air.   Marcus Monroe is a talking humorist juggler that takes the tempo down with his humor, clubs and knives.  There is another clown and juggler also juggling the same kind of knives, which is also funny.  Would love to give this perform credit because his act was great, wonderful timing and became unique, but because there was no program and the up dated list of performers I am receiving are missing a few excellent performers name.
Stephen William also known as Bath Tub Boy does a wet aerial gymnastic acrobatic erotic dance in the tub and air.   Yes there is water that is flying off his body, pants, hair and out of his mouth.   Heard on the way out that this was his last show before returning to Australia.  But this is one thing about La Soiree, it is always changing.   When you hear there is a great act that has come in to the show, go.  There is a new Bath Tub Boy coming into the show soon.
Ambrose Martos also known at Manchego!  Manchego is one different performer with his own very odd type of sexiness.  With Manchego the rhythm of the show changes.   Yet there is also a very truthful clown holding the mirror up to the audience in everything that Manchego does.   He has us laughing, groaning, having a good time and he is great at totally changing the pace and rhythm of the show, which benefits La Soiree.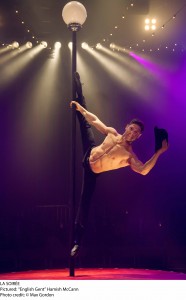 There is a wonderful aerial silk act, who's performers name could be Alexandra – I have been unable to find out.  She does excellent manipulation and dancing in the silks with drama and grace.  There is lots of recorded blues music throughout the show.   Hamish McCann one of the two English Gents does an amazing street lamp pole dance with feats that seem impossible which brings down the house.
This is a sexy fun – cheers, hoooops, screams, laughs, oooooh's, aaaaaah's and smiles from beginning to end evening.  Catch it for a good time; it will evaporate your troubles away for the night.

Lighting, rigging, setup and sound was wonderful.  Don't ask me who did it.  Also there are two ushers and all around prop ladies that keep the show functioning with charm, wit and grace.  The fellow handing out free popcorn as you come into the show was a fun fellow.
Tickets: as of this date according to their website are from $37.95 standing at the bar to $56.95 to $187.95 with a Champagne Package. lasoireeus.com