By: Stanley Allan Sherman
copyright 2013
Created and Performed by: Lea McGowan
Directed and Development by: Stanley Allan Sherman
In June Ms. McGowan's theater piece ran at the Hollywood Fringe Festival receiving great notices and winning best costume award.  We like to think winning that award was not only because the costumes where the best in the Hollywood Fringe Festival but because of how Lea used her costume.  July 24 Lea had a very successful preview and party in NYC at the Slipper Room and I must add a very supportive theater performance venue.  Now Lea is in Scotland at the Edinburgh Fringe Theater Festival with a 25-show run.
This is an update to this blog with reviews from Edinburgh: Fringe Review  by Dan Lentell, ".. a pacy, intelligent and often witty performance."     BroadwayBaby by Heather Bagnall, UniqueLea Captivating ,  and Radio Interview link NOW LEASING creative team Lea McGowan and Stanley Allan Sherman speaking with FringeReview.  The line in this review by Carrie Gooch is really nice in that the reviews points out one of the elements I worked hard to achieve.   "A lot of shows in the fringe hurtle along at breakneck speed with all sorts of added electronics to keep the stimulation levels high but this show is different: McGowan eschews all gizmos allowing a quietness and acute attention to develop.. the pace is unusual, but her audience was absolutely held."
There are actors and there are players.  Players always tell the truth.  Actors can say anything and make you believe it is the truth.  The way we are approaching Now Leasing, Lea is a player in a very truthful show.   She uses her multiple skills in telling this dramatic hopeful story with poetic messages that hits one in the heart and gut.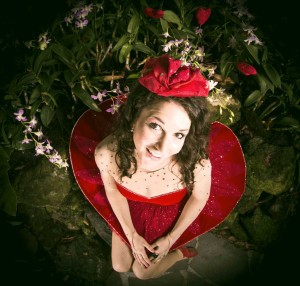 Lea is using story element created as a basic guide as the Commedia dell'Arte companies in the past used scenario bases.   Giving Lea the freedom within this form to make each performance a new fresh show that can have subtle differences and more.  While still have the set pieces within her show making, Now Leasing a living, alive theater experience.
Each art alone in it's greatness, dance, circus arts like aerial silk, poetry and use ones voice with all of its highs and lows.  These can all serve as entertainment and theater on its own.  Using all of these disciplines for a reason – telling this story combines the artistry of each of these elements into one special theatrical piece.
We all have assets.  The things we are great at.   We also have deficits.  The things we are not at all great at.  Again from the Commedia dell'Arte we use all of our assets as assets but we also take full advantage of all of our deficits turning them into assets.   Our assets and deficits are all assets for us the company and audience; to enjoy, learn and laugh.    This is a major theme in our new theater piece Now Leasing.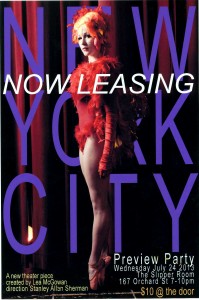 We met when Lea gave me a call signing up for the neoprene latex mask making class I'm teaching.  Then asked, " do you direct too?"  I said, "Yes.  I specialize directing and developing original shows and solo shows."   This started our intense rehearsal and development process.  We had much laughter and true tears.  We kept on breaking walls to create this show.  Lea is an amazingly talented mature performer and creator with professional experience as actress, ballerina, dancer, and with circus aerial silks.  Starting with the framework she had we've developed a very different, original, fun and this very gutsy theater experience.   Her wealth of talents is exploited to the fullest.  A story, more than a females voyage as she becomes – over coming hardship heart break turning them on their head and doing what she loves.  Inspiring all to over come and follow their creative heart. There is hell, humiliation, success, joy and heart.
Ms. McGowan is having a good time putting everything on the line. Not only each night she performs but in having the courage and foresight to self produce Now Leasing.  Booking her show in small and large venues, festivals around the United States, throughout the world is the future adventure.