By: Summer Shapiro
By Stanley Allan Sherman
© copyright September 28, 2012
Summer has performed at several clown theater festivals, always with a partner.  Every year this young performer shows real signs of growth and change.  This is her first solo show at any of the festivals and it is a great one.  Again, another show in the NY Clown Theater Festival that is good enough for a real NYC theatrical run.  In this new world of Clown Theater this is a woman that is blazing her own trail and style of theatre.  Looking at Summer on stage her insides are alive with anything can happen energy.  Each show Summer come to NY with is totally different and this show does blow the doors off female clown insanity.  Summer is a beautiful woman and she uses her beauty and experience playing with that beauty, disappointment, power and fantasy becoming true clown reality.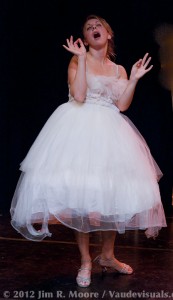 This show plays on loneliness, relationship and pain.  Summer plays the true drama of this show and because it is clown it can go into the insanity that every woman most likely dreams about in her "Boudoir".  Setting up dinner is dynamic full of style.  Summer who is wearing a kind of white wedding low cut dress she is always adjusting her breasts though out the show and it is a statement as well as pulling lipstick and other things out of her cleavage as well as putting thing in her cleavage pocket book. At one dramatically funny moment she pulls a fork out and throws it aside with that look, how did this get down there?  Her table carefully set she sits lonely and we experience the unrealizable pain of sitting alone and no one comes.  Her table is unset.  The wonderfully funny large wads of pasta on the plates go onto the floor.  Just as real life emotions all ends up rolling all over the floor.  Plastic glasses roll out to the audience a guy hands her a glass.  She is captured by him and moves on.
Her play with the audience is on many levels, both men and women.  But the guys she uses with full performer experience.  One thing that is wonderful is the constant making fun of her beauty, demanding, moodiness and real female clown performance fire.  Everything explodes full and Summer artfully tracking the flow of this insanely fun show.   Totally unique!    Yes the guy gets to kiss her cheek.  And this clown turns the table on the male clowns kiss my cheek and turns the head and it is a kiss on the lips!  She is thrilled!    It is full of all the fantasies, including taking a married man from the audience, who winds up under her dress at one point as the light go on and off.  Fighting with the lights and sound booth is all part of this show.  Then another married man Keith Nelson famous clown and master prop manipulator.   Her two guys she set up fighting over her.  First there are fights with swords, then nunchucks, and then guns and she wants to see blood.  Of course she is hit by accident in a bouncing of bullets of sound.  This clown gets to do her overly right on ultimate female clown dying scene.  That goes beyond what any diva could dream of.   There is a ton of stuff that happens I will not tell you because I do not want to spoil it for you.
This was her last show of the NY Clown Theater Festival, from San Francisco she has just decided to move and stay in this wonderful New York NY.  So there is another very dynamic and totally different female clown in town.
Only problem with the show is there was no program and no credit of all the wonderful use of music she used throughout this thrillingly funny show.   For a professional run if it happens the use of all the music is one thing she will have to address.
Welcome to New York NY Summer Shapiro.  We will be hearing from this creator clown and most likely soon. You can follow her on her website www.summershapiro.com .
For more photos of The New York Clown Theater Festival go to Jim Moore's blog http://vaudevisuals.com/