Stanley Allan Sherman - short history - reviews - comments
Ecole Jacques Lecoq Theatre Mime Movement - 1972 graduate
Member of: Actors Equity Association, Screen Actors Guild - American Federation of Television and Radio Artists, Association of Theater Artists and Craftspeople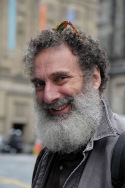 Known for Commedia dell'Arte and masks, starting in 1972 Stanley began creating masks for his shows and creating leather theater masks since 1976. Carlo Mazzone-Clementi brought Stanley to his school in Northern California working with him created a set of Commedia dell'Arte masks. He had the longest running exhibition in the history of Lincoln Center Museum of the Performing Arts, has made masks for NY Baroque Dance Company, Company XIV Dance Inc creating the S&M Horse Head mask and Golden Rat masks, many Colleges, Universities, schools including Yale, theater companies, Big Apple Circus, World Wrestling Federation creating the famous Mankind Mask, American Academy of Dramatic Arts, special leather top hat for Philippe Petit, queen and daughters masks for NYC's Queen of the Night, Joffrey Ballet School Nutcracker and many others. Various unusual custom jobs including for the hit show, Bouffon Glass Menagoree. His custom fitted leather clown noses are used around the world.
He performed hundreds of mime, Clown Theater and Commedia dell'Arte style shows in schools, odd stages, 3000 seat rock concerts and theaters. In 1975 coming to NYC, performing his own style of street theater on Wall Street and Nassua in front of the Federal Treasury Building with 5 to 6, 20 to 30 minute full shows over the Wall Street Lunch hours. He created the Aero Show, Featuring the Star Spangled Banner running 6 months in LA, Critic's Choice in the LA Times, receiving rave reviews around the country and touring until the mid 90's.
In the acting world his skills found very useful, being Off Broadway for 4 years in Grandma Sylvia's Funeral and appearing in comedy bits on Late Night with Conan O'Brien on NBC 41 times. It was partly the mime, clown and Commedia dell'Arte skill that made the comedy bits work on Late Night. After one rehearsal on the set Stanley went back to the greenroom and fellow comedy bit players asked, "How did you do that entrance and exit? It was hysterical!" The answer, many years of performing and playing with silence. It is what we do and how, which is selling many moments in film, television, stage and the many venues - variety performers perform.

As a Performer
Los Angeles Times: A Magical Clown Act Takes Flight
By Kirk Ellis
There hasn't been a clown act like Stanley Allan Sherman's Aero Show Featuring the Star-Spangled Banner since Bill Irwin rolled into town with his Regard of Flight a few seasons back... The results are nothing short of magical. ...The show builds slowly, with an almost Chaplin-esque sense of comic construction... Sherman has the rare ability to breathe life into inanimate, even imaginary objects...
The Columbus Dispatch: Seriously, you must go see this clown
By: Michael Grossberg
Take your kid! If you don't have any [kids]... Borrow a few. Anyone who doesn't grab the whole family to see this weirdly wonderful fellow deserves to be arrested for criminal negligence. His show is that special...
Raises high expectations. The rest of the Festival is going to have to be darned good to live up to them.
As a Director, Coach for Clown and Mime Shows
John Paulsen's Lonely Banquet
John brought Stanley in to work with him on his show for the run at Here Art Center in NYC.
"Stanley challenged me to pursue the territory within myself unvisited, to take my work to the place of the uncommon. He demanded that I not be satisfied with just entertaining people, but to give them theatre. Stanley should have walked into the theatre wearing a demolition helmet... demolish your safety zone, demolish your safety net. Break it and show me your unique self, your unique vision for our ailing world. Working with Stanley was like the difference between seeing a vacation postcard to actually soaring through the Grand Canyon. Don't show me the postcard... take me there, take me to the Grand Canyon... Scared of the edge?... Great. Me too. Let's go! How exciting!" - John Paulsen
Gautham
...I was able to go out there and just "be" without having to do a bunch of stuff... I'm taking my time, finding the moments, letting myself discover, finding the joy. I'm still applying the principles we practiced... In short, I'm really grateful for the work we did together. It's opened up so much for me. Thank you!! - Gautham Prasad
Developed and Directed
Bride of Beowulf
A two person children's clown style show that toured for 4 year with Young Audiences. The show was based on the story Beowulf and incorporated acting, mime, movement, puppetry, opera, and story telling.
"The students were very enthusiastic. One of the best programs I've seen!" - Young Audiences Program Observer
"An outstanding creative approach to presenting a difficult topic." - S.M. Williamson, PTA Rep. Point o' View Elementary
Beast of Festive Skin
Writer/Performer: Alexandra Tatarsky
"There is no good-bye in Hell." But there is an open mic night. There's another thought that lets you know you're in Hell - as long as we're here we might as well make the best of it.
"I found Tatarsky's performance to be endlessly entertaining. She is charming and cozy every minute she's on stage. She's not afraid to be silly or completely absurd. She's not afraid to be silent either. There are moments of just expressions and gestures that are hysterical."
By Richard Hinojosa NYTheater.com
http://www.nytheatre.com/Review/richard-hinojosa-8112013-beast-of-festive
August 11, 2013
Now Leasing
By: Lea McGowan
"A lot of shows in the fringe hurtle along at breakneck speed with all sorts of added electronics to keep the stimulation levels high but this show is different: McGowan eschews all gizmos allowing a quietness and acute attention to develop the pace is unusual, but her audience was absolutely held."
Carrie Gooch
SG Fringe
The Edinburgh Fringe Festival Aug 21, 2013
"...using physical theatre and cabaret for a strong story-telling session. Changing up the pace is a mesmerizing contemporary dance and aerial silks fusion number, creating a delightful balance of highly physical play and introspective inquiry into an otherwise extrovert-Lea entertaining comedy drama. twists, turns, and tenderness, in all sorts of unexpected directions."
The List
August 15, 2013
Written by: Gareth K. Vile
"Special Thanks to Stanley Allan Sherman for emotional and psychological support as well as superb directional advice. Under the direction of Stanley Allan Sherman, a master of Commedia Dell'Arte and renowned mask craftsman himself, NOW LEASING has developed in clarity and depth, reaching ultimate truths."
Lea McGowan

Director
Duet For Solo Voice
by: David Scott Milton
with Jonathan Slaff, Rachel Krah and David Zen Mansley
OffOff Online:
The Russians are Coming? By: Kelly Aliano
Duet for Solo Voice... directed by Stanley Allan Sherman... hilariously funny and eerily discomfiting... an enjoyable hour spent in the theater... displays the coherence of Sherman's vision and creativity.
Acting - Stanley Allan Sherman
Jonathan Togo and Stanley Allan Sherman, directed by: Daniel Bollag
Contact Stanley Allan Sherman - Mask Arts Company
212-255-2882: 203 West 14th St Studio 5F, New York NY 10011-7138
photo credit David Stephenson