Mask Arts Company
Theatrical Training Masks
Most neutral mask colors are available.
Female Neutral Mask - Neoprene Latex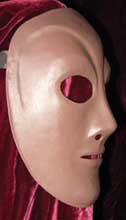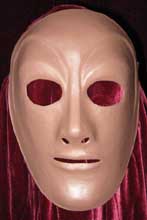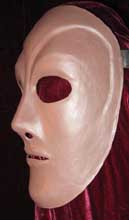 Male Neutral Mask - Neoprene Latex
Series #4
When Jacques Lecoq was having the male and female neutral masks made he went to a few sculptors to make them. The neutral masks he ended up using for teaching and theatrical training went through several versions before coming to the final working masks that I used when a student at Ecole Jacques Lecoq in Paris France in 1970. The refining of the neutral mask from a sculptural point of view is an on going process. I plan to come out with Neutral Masks Series #5 in the near future. For clients who purchase Neutral Masks Series #4 and give me feedback, they will earn a free upgrade to Neutral Masks Series #5 if they wish. This set of neutral masks has been tested at the American Academy of Dramatic Arts.
Neoprene latex neutral masks are $100 each or $390 for a set of four.
Leather neutrals will be coming out at a later date.

Color: If you would like a different color for your neutral masks please let me know and I will be happy to accommodate you.

Elastic Straps:
1. You have a choice of a plain solid elastic strap, which comes with the mask.
2. Adjustable elastic straps are available so you can tighten and loosen the mask even after many years of use and the elastic wears out; normally $17 per mask with the Economical Recovery Mask Sale adjustable straps are $3 per mask.
Moleskin Lining is available which goes in the forehead area for an extra $15 per mask.
Do it yourself lining: You can order self-adhesive or plain moleskin lining and put it in yourself at $15 a square foot. One square foot will cover two to three masks.
Click Here to order & contact Stanley.

Developed by Carlo Mazzone-Clementi for actor training

I made two different Metaphysical masks for Carlo. The first mask he gave instructions, with me finishing the mask on my own. The second mask Carlo was guiding me though the whole sculpture process. Never saw Carlo work with the Metaphysical mask or found out how he used it. Using some neutral mask exercises with the Metaphysical mask has been very effective. But never found anyone who worked with Carlo and valued the work with this powerful mask until this summer. On August 24th Peter Kors came to NYC pierStudios and we did the first Metaphysical Mask Lab since most likely the 1970's. The mask helps bring one to the simplest most effective movement, alone and with each other. Builds ones strength of character and vulnerabilities. It helps one get to and see ones true character and more.
Here is a video by Jim Moore entitled "Metaphysical Mask Improv" on his blog http://vaudevisuals.com. Peter Kors and I intend to be doing more Metaphysical Mask Labs this year. If you would like to know about these labs or would like us to do a Metaphysical Mask Lab at your intuition or Theater Company, please contact me. You can also join the new Metaphysical Mask Connections group on facebook.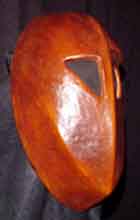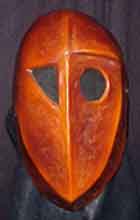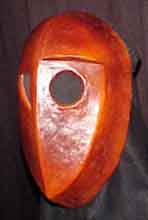 Leather Metaphysical Mask comes with an adjustable elastic
Eyes covered with a see through sheer black screen
Price $650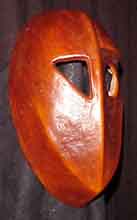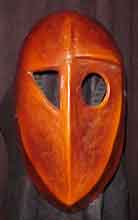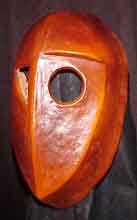 Leather Metaphysical Mask comes with an adjustable elastic
Eyes uncovered
Price $650
To Order Click Here.
---
To place an order, questions, other information or to be put on the e-mail list for newsletters and announcements
Contact Stanley Allan Sherman- Mask Arts Company
212-255-2882: 203 West 14th St Studio 5F, New York NY 10011-7138
---
Copyright © 1976-2020 Stanley Allan Sherman. All rights reserved.